Lead-Based Paint Services
"Our goal is to turn clients into team partners for life."
Lead is a cumulative toxic substance that can be absorbed into the body through inhalation or ingestion.  Once inside the body, lead accumulates in the blood, bones, and vital organs – including kidneys, brain, and liver.  Lead exposure can lead to seizures, coma, and even death.
Because lead can be such a significant toxin, several governmental agencies regulate exposure to it.  These agencies include:
The Department of Housing and Urban Development (HUD)
The Commonwealth of Kentucky Department of Health
OSHA
As the largest and most qualified lead-in-paint consulting firm in Kentucky, we can help you manage issues involving the presence of lead-containing paint in your facility and any potential occupant or employee exposure resulting from its presence.  We provide several services to assist you in determining the presence of lead, and subsequent management of this toxic substance, including:
Comprehensive surveys
HUD risk assessments
Lead abatement specifications
Final clearance testing
Abatement oversight
Exposure air monitoring
Re-occupancy certification
Lead hazard assessment
Bulk sample analysis
Through our accredited team of certified lead professionals, we also provide lead-based paint inspections and risk assessments for sellers and buyers of residential properties to satisfy the EPA and HUD jointly issued regulation, found at 45 CFR Part 745, Subpart F.
Our professional staff has been involved with lead testing and consulting since 1980.  Over the years, we have assisted HUD, several state and local health departments and state regulatory agencies in formulating manageable lead control and lead abatement regulations.  We can use this experience and the relationships we have developed to help you in solving any lead problem you might have, whether large or small.
For more information concerning our Lead-Based Paint Services, please contact one of our representatives at (502) 964-8737 or use our online form to submit an inquiry.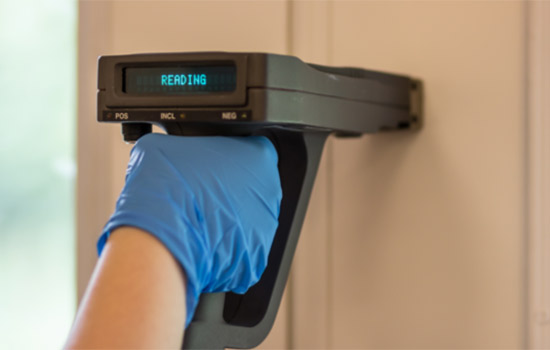 3310 Gilmore Industrial Blvd, Louisville, KY 40213