USP 797/800 Testing and Certification
"Kentucky's First CETA Registered Certified Professional for Sterile Compounding Facilities."
In an effort to increase patient safety, the U.S. Pharmacopeia has implemented USP chapters 797/800 to control the compounding and administration of pharmaceutical products in the United States. The regulations comprising USP 797 are intended to protect patients by preventing the contamination of compounded sterile preparations. USP 800 has also been adopted to protect patients and pharmacy personnel from exposure to hazardous drugs as part of the compounding pharmaceutical products.
Recognizing the impact of these standards on compounding pharmacies, Micro-Analytics has developed a systematic approach to helping facilities achieve regulatory compliance. Following a comprehensive gap analysis, we will provide CETA trained technicians to conduct all necessary testing and certification. Micro-Analytics offers training programs designed to provide pharmacists and support personnel with a better understanding of USP 797/800, and the best practices for maintaining compliance.
USP Compliance Testing Includes
Biosafety Cabinet and Isolator Performance Verification and Certification
Laminar Airflow Workbench (LAFW) Performance Verification and Certification
Cleanroom HEPA filter integrity testing
Non-Viable Particulate Sampling
Room Air Exchange Measurement
Room Differential Pressure Measurement
Calibration Pressure Gauges and Additional Critical Devices
Dynamic Airflow Smoke Visualization Studies
Viable Environmental Monitoring
In addition to the semiannual monitoring and certification of ISO classified rooms and devices, viable environmental monitoring must be conducted. A formal sampling plan should be put in place for the implementation and scheduling of environmental monitoring, including a diagram of intended sample locations and a baseline for the minimum acceptable limits of viable organisms. Regular sampling by Micro-Analytics will allow you to monitor trends in the presence of viable organisms, thus helping you evaluate the effectiveness of your cleaning and standard operating procedures. We offer microbiological services scaled to meet the needs of all USP 797 & 800 clients, including genus/species identification and the option to include fungal-selective media.
We understand that delivering safe, effective medication to patients is more than just a good idea – it is an obligation. For more detailed information about our USP 797/800 compliance services, please contact one of our representatives at (502) 964-8737 or use our online form to submit an inquiry.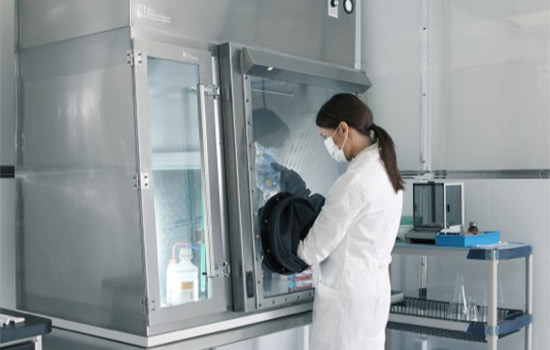 3310 Gilmore Industrial Blvd, Louisville, KY 40213